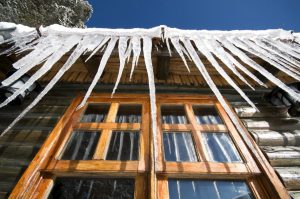 How do you prepare yourself for a cold winter? More likely than not, you stock up on warm clothing and ice melters, Google as many comfort food recipes as you can, and que up your DVR with a lot of movies since you're not going to leave your house unless you really have to.

You should also be taking a few steps to winterize your home and make it ready for the harsh weather to come.
How to Winterize Your Home
Insulate Everywhere
You're going to want to keep your home as warm as possible, without running up your heating bills, which is where insulation comes in. If possible, add a denser, more energy-efficient insulation to your attic and crawlspace.

You should also use spray-foam insulation or caulk around your windows, doors, and outlets to prevent drafts and wrap foam insulation around your pipes, especially exposed ones in exterior rooms to prevent them from freezing.
Schedule an HVAC Tune-Up
The last thing you want in the middle of a cold winter is to have your heating system break down on you. Before it gets too cold, schedule a tune-up with your trusted HVAC tech. He or she can make sure your system is in good condition to keep you comfortable all winter long.
Clear Out Your Gutters
All the snow we get in Reading will eventually melt (even if it doesn't seem like it will) so that water will need to be able to flow off your roof. But it won't be able to do that if your gutters are clogged with leaves and other debris.

Clean out your gutters before the weather gets too rough. This helps keep your home safe from ice dams, water damage, and any of havoc winter weather can wreak on your roof.

You won't have to brave the winter weather to clear out your gutters if Gutter Helmet keeps debris out in the first place. For help protecting your gutters in the Reading, PA area, let the experts at Keystone Gutter Helmet help! Give us a call today at 610-372-4383.