Gutter Helmet Benefits: What Makes Us The Best in Lehigh County?

Brackets
Every home is unique, and Gutter Helmet® installers with the option of several special-purpose reinforced heavy gauge installation brackets, each engineered with a custom installation and special purpose in mind; to strengthen and support your gutters, even in the heaviest of snowfalls (K-style or Universal Tri-Beams support brackets) and prevent entry to birds and animals (anchor-lock support brackets); to withstand the heaviest rainfall ever recorded (all brackets); to hook invisibly into your gutter with NO screws into the gutter, and NO screws into the roof (K-style tribeam supports).
Gutter Helmet® professional installers are also trained in fascia-mounted systems that do not touch the roof at all; ideal for expensive slate, shake and metal roofing. The 'other guys' usually have a single bracket design or installation method that encourages a "one-size-fits-all" approach to every home…even yours!
Panels
Gutter Helmet®'s patented metal texturing process and horizontal-rib design is precisely engineered to provide maximum strength, maximum performance and minimum weight and stress onto the gutters of your home (especially when used with our patented brackets) over similar non-textured, non ribbed products. And, Gutter Helmet® is specially Kynar© coated to not only resist scratching, cracking and peeling, but to also neutralize the harmful effects of UV light and acid rain without perceptible fade for 20 years! Products coated with enamels, polyesters or just cannot stand up to the Gutter Helmet® PermaLife coating with special stain inhibitors.
The Industry Leader
Gutter Helmet® pioneered the professional gutter protection market over 25 years ago and is the industry leader, installing more quality systems over existing gutters than every other competitor, and have for every year for the last 25 years (with sales of over 10 million feet of Gutter Helmet® in 2004 alone!). Many products and companies have come and gone over the last 25 years, but Gutter Helmet® remains committed to you. our current and future happy customers.
Stop Climbing Shaky Ladders!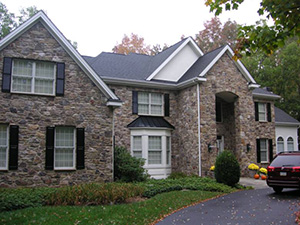 Avoid the muck and hassle of cleaning gutters yourself. Avoid the dangers of climbing a shaky ladder. Avoid the liability of having someone else clean your gutters. Gutter Helmet® helps prevent clogged and overflowing gutters that can lead to rot and damage of landscaping, lawn, shrubbery, walls, fascia boards and soffit, foundation, basement, crawl spaces and existing gutter system. Stop worrying about your gutters and start enjoying the peace of mind that a Gutter Helmet® system provides. With Gutter Helmet®, you'll Never Clean Your Gutters Again!®
A Variety Of Options
Gutter Helmet® is designed to blend into the natural architectural style of your home. Eight colors plus solid copper are available to match your roof shingle so that an installed system becomes an almost invisible year-round protection from the damage caused by overflowing gutters.
Highest Quality Product On The Market
Gutter Helmet® is expertly and professionally installed using the industry's highest quality poly-butyl sealant and Dacromet®-coated fasteners. Gutter Helmet® provides our installers with a choice of installation methods, some that do not touch the roof at all! Finally, our installation procedures and methods have been evaluated and approved by major roofing manufacturers.