How Gutter Helmet Works…Simply Surface Tension
The gutters that hang on your home are designed to take rainwater and move it away from your house. But they're not able to do this when your gutters are clogged with leaves, sticks, and other debris throughout the course of the year. This debris can make it impossible for water to pass through your gutters cleanly, which can cause your gutters to overflow. It can do damage to the side of your home, send water into your basement, and even result in lawn erosion. Keystone Gutter Helmet can provide you with the perfect solution to your problems by setting you up with gutter protection services in Reading, PA and other parts of Berks County and Lehigh County.
Keystone Gutter Helmet specializes in providing homeowners in these areas with the unique Gutter Helmet® system that provides complete gutter protection. We perform Gutter Helmet installation for you and keep debris out of your gutters once and for all. The Gutter Helmet gutter guards always offer up custom fitted gutter protection, so you will never clean your gutters again or need costly gutter service.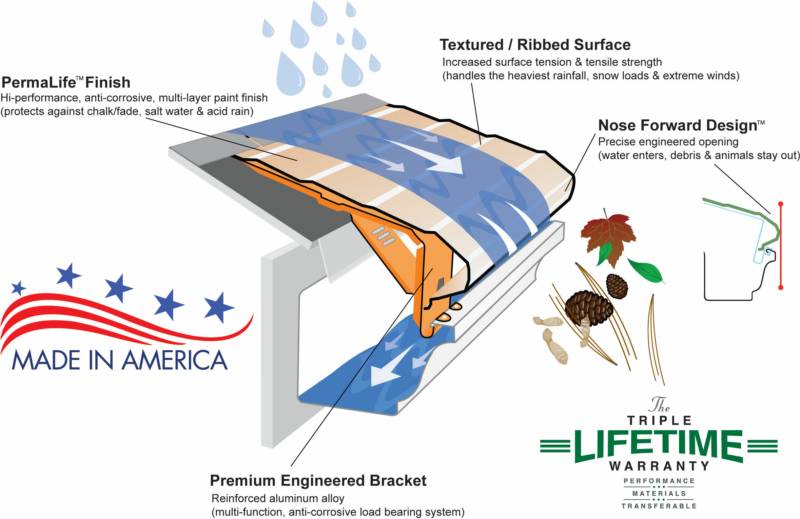 Approved by Major Roofing Manufacturers
Both Gutter Helmet® and our installation procedures have been approved by major roofing manufacturers. Your roof and roof warranty are safe with us.
Gutter Helmet Installation in Berks County
The Gutter Helmet system features a patented nose-forward design that stops leaves and debris from working their way into your gutter system. It channels rainwater around the nose-forward panel and down through a 3/8" horizontal slit that sends the water into your gutters while sending any leaves or debris down towards the ground. This provides your home with complete gutter protection once you've had Gutter Helmet installation done by Keystone Gutter Helmet. Both Gutter Helmet and the gutter protection services provided by Keystone Gutter Helmet are also approved by major roofing manufacturers, so you won't have to worry about your roof or your roof warranty when you have gutter guards put on.
When you rely on Keystone Gutter Helmet for gutter protection services, we'll make sure your Gutter Helmet installation goes off without a hitch. Our installers are trained to clean, seal, and adjust the alignment of your custom fitted gutter protection system so it fits right over your existing gutters. We'll also inspect your gutters and gutter guards before leaving your home to ensure they're ready to provide complete gutter protection so you'll never clean your gutters again. The Gutter Helmet installation usually only takes a day and is well worth the investment you'll make.