Helmet Heat, Roof and Gutter De-Icing & Snow Melt System

What is Helmet Heat?
The GH Helmet Heat system, is a roof and gutter heating system that protects the roof throughout winter by keeping the roof, gutters, and downspouts safe from dangerous icicles, frost erosion and heavy loads of snow and ice that most buildings are not designed to withstand. The GH Helmet Heat system will greatly reduce any damage caused by harsh weather conditions and protect the structural integrity of the roof.
The GH Helmet Heat Roof & Gutter deicing system is the most effective system available for removing snow on roofs and for greatly reducing ice dams and icicles from forming.
Features and Benefits of Roof & Gutter Heating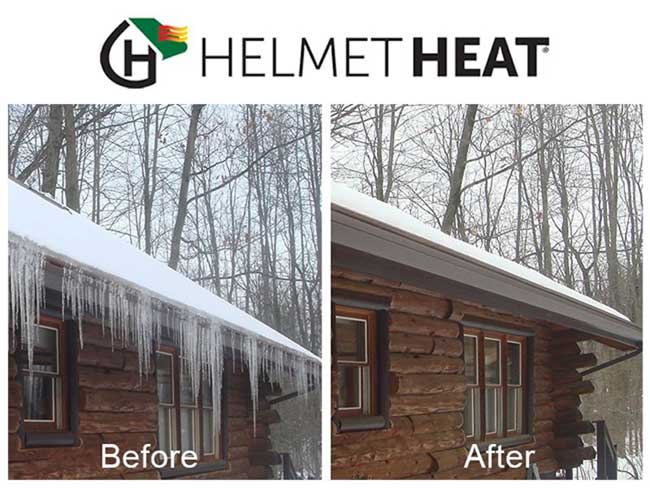 Self regulating heat cable (120/240v)
Reduce ice & icicles at roofs edge
Roof & Gutters remain free of snow and ice
Melted ice drains safely down gutters and drains
Greatly reduces heavy, dangerous icicles
Prevents snow and ice damage to roof structures
Cable is hidden underneath the Gutter Helmet
Automated operation available
Electrician hook up required
The GH Helmet Heat system is self-regulating heating element is one of the most popular solutions for keeping roof gutters and downspouts free from dangerous ice damage and frost erosion.
The GH Helmet Heat system cable features an irradiated conductive core that increases its heat output as the temperature falls, and decreases its output when the temperature rises, optimizing safety and energy-efficient operation.
Warranty
The GH Helmet Heat Cable is warranted by Heat Trace Products for 10 years. Proof of original purchase is required for validation. (The GH cable has identifying markings for lot traceability). Warranty is only for original purchaser.