Black streaks and discoloration found on roofs can be safely cleaned & prevented by Keystone Gutter Helmet!…You don't have to replace your roof simply because it looks bad, and you don't have to live with the unsightly stains!
What Is Roof Shield?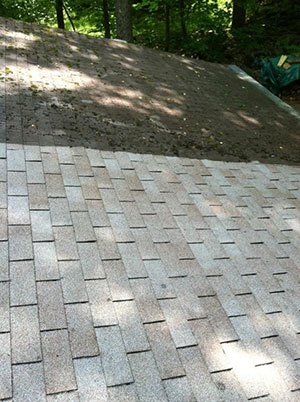 Roof Shield is an authorized Roof-A-Cide® Applicator. Keystone Gutter Helmet technicians are professionally trained and equipped for roof cleaning and stain prevention. We can safely restore your roof to it's original color — and keep it that way without harsh chemicals or pressure cleaning.
Roof Shield Is More Than Just Roof Cleaning
It is the safest, most effective roof cleaning and stain prevention service available! Roof Shield uses the ONLY EPA Approved Algaecide / Fungicide that is specifically designed and approved for use on Asphalt / Fiberglass Shingle, Concrete Tile, and Clay Tile Roofs — providing the safest alternative to the damage caused by repeated roof cleaning!
Keep Your Berks County Roof Clean!
Safer for Your Roof
Safer for the Environment
Curb side appeal. (Great for resale as well as home ownership pride.)
Helps realize full life of shingles. (Lichen eats to the mat of the shingle)
Fraction of the cost of a new roof. (New shingles can develop algea within a few years)
New shingles can be treated to keep growth from starting. (Helps keep cost down by eliminating labor for cleaning)
Roof-a-cide products only true EPA approved products on market.