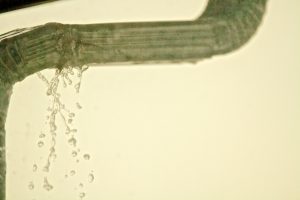 Gutters are designed to protect your home and to keep water away. Gutter leaks can sneak up on you, and before you know it, you've got yourself a problem. From basement flooding to overall water damage, you'll want to know these tips on how to prevent your gutters from leaking.
Preventative Maintenance
Maintenance is probably the number one way in which you can stave off gutter leaks. You should perform the following every six months:
Clean your gutters by removing leaves, sticks and other debris from gutter channels

Inspect gutters for cracks and other damage

Check for sagging. If your gutter is pulling away from the fascia, it will need to be re-attached.
Know the Warning Signs
There are a few warning signs that could be an indicator of gutter leaks. Here are some red flags to look out for:
Water pooling around foundation and basement – water pooling could either mean your gutters are clogged, or they may be cracked and leaking.
Mosquitoes – If you notice an influx of mosquitoes around your home your gutters may be clogged or damaged. This can cause water to collect, thus leaving behind the perfect breeding ground for mosquitoes.
Water spots under gutters – Check the gutters around your home. If you notice water spots underneath and it hasn't rained for days, it's possible you may have damage or cracks that are causing leaks.
How to Test for Leaks
Testing for leaks can be both a time and money saver if you catch a leak problem early. Here are a few ways you can test your home for gutter leaks:
Take a hose and place it where water will be able to flow through your gutter system. Please keep in mind safety when doing so, as this may require you to climb a ladder. Enlist a neighbor or friend to spot you, especially if your ladder is positioned on uneven ground.

While the water is running, get back to the ground and inspect the entire gutter area. In darker spots, have a flashlight handy. If you spot a leak, you'll want to have the problems fixed as soon as possible.
Gutter cleaning and maintenance is an important task to keeping both the interior and exterior of your home protected from leaks and flooding. Don't let gutter maintenance fall off your to-do list. Keystone Gutter Helmet is highly qualified to help you with all your gutter maintenance, installation and repair needs. For more information on how a Keystone Gutter Helmet system may be right for your home, contact us today!