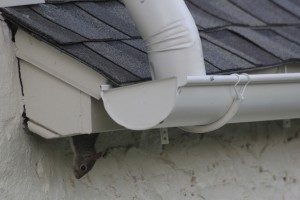 Your gutters are a gateway to problems in your home; unless of course, you maintain them! There are a lot of things that can go wrong when it comes to your gutters, and neglecting even just one of these can lead to big problems, and even bigger repair bills. It's important during the summer to make sure that you're on top of all of your maintenance.
Clogged gutters are the first culprit. They can lead to flooding, overflowing, and other problems. The best way to remedy this situation is a Gutter Helmet — problem solved, forever!
Defective pitches can lead to issues. When water does build up in your gutter, the pitch is what the water hits first before transferring to the downspout. If yours isn't in the best of shape, you might want to take a look. This can lead to mosquito problems, and other bugs.
Loose Gutters and downspouts lead to big problems. Without the proper water guidance, there's the chance that rainwater and debris will begin to find its way into other regions, which can lead to costly damage. It's important that all of these things are inspected periodically to ensure that you're preventing further damage.
Ultimately, a Gutter Helmet is the best option to preventing most of the problems associated with your gutters. With a lifetime warranty, you simply cannot go wrong!
Keystone Gutter Helmet guarantees your gutters will be free from debris, insects, and other things that can lead to clogs and leaking water. If you're thinking about having a Gutter Helmet installed, call Keystone Gutter Helmet and request a quote. We're proud to serve Wyomissing, and the surrounding areas. For tips, tricks, and to stay up to date on what we're doing, 'like' us on Facebook!