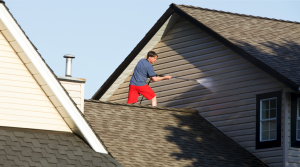 This summer, it's understandable that you want to relax on the patio with a burger and cold drink — believe us, we love that idea too! But before you fire up the grill, spend a few hours on your roof and prep if for the months ahead. Although summer doesn't see the amount of rain spring does, there are still things like leaves, branches and pollen around all year. Summer maintenance is always a great proactive thing you can do!
Hosing Down your roof might seem redundant, but it's actually very beneficial! Think about the pollen, and smaller objects that might get stuck to the roof. If they're stuck for a while, not only can they aid in rotting your shingles, but it can lead to build up that never makes it's way down and off of the roof. Carefully climb up and give it a quick hose-down.
Gutter Cleaning is perfect. With the rain and leaves inevitably falling from trees, it's a good idea to think about the grime that can get lodged in your gutters. With the help of a friend, hop on the ladder and carefully clean out the gutters. Less build up means more water flow, which can lead to less leaking and damaged gutters.
P.S. As an added bonus, might we recommend a Gutter Helmet? This nifty addition to your gutters will result in much less time spent with a glove on, digging out dirt and debris that's blocking the pathway of your gutter!
If you're thinking about having a Gutter Helmet installed, call Keystone Gutter Helmet and request a quote. We're proud to serve Wyomissing, and the surrounding areas. For tips, tricks, and to stay up to date on what we're doing, 'like' us on Facebook!