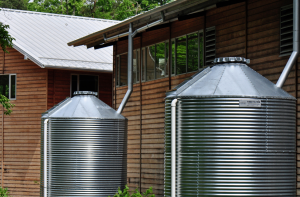 The weather is something we unfortunately cannot control — but what we can control, is how we use the inclement weather to our benefit. Repurposing rainwater can help keep a few more dollars in your pocket each month — and we can't argue with that logic! Check out some of the ways you can save and reuse water this season below.
If your gutters are equipped with a Gutter Helmet, the water will efficiently flow through to your downspout and can be caught with a rain barrel. From this rain barrel, you have the opportunity to harness this water for a number of tasks. Thinking just in terms of outdoor use, there are so many ways to use your water! Watering your plants, washing the car, and washing windows are just a few.
For the real water savers, installing a rainwater collection tank is a great benefit too. This will utilize collected water to power appliances such was your washing machine, and toilet systems. As an added bonus, you can install an inexpensive shower head to your collection tank for quick rinsing after a run!
Inside the home, try to turn off your faucets if you're not actively using all of the water that's flowing out. The amount of water you'll save per month is incredible!
All of these ideas are great, but they won't work if your gutters are clogged! Installing a Gutter Helmet will allow you to retain full use of your rainwater, and keep your home free from leaks and debris.
Keystone Gutter Helmet guarantees your gutters will be free from debris, insects, and other things that can lead to clogs and leaking water. If you're thinking about having a Gutter Helmet installed, call Keystone Gutter Helmet and request a quote. We're proud to serve Wyomissing, and the surrounding areas. For tips, tricks, and to stay up to date on what we're doing, 'like' us on Facebook!