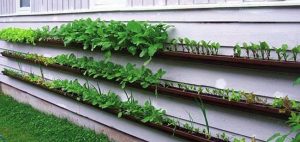 Have you ever thought of replacing your gutters? What do you do with old ones? Surely they have no use once they're off of your roof, right? This isn't the case — DIY'ers, rejoice, for there are projects galore! If you're taking those old gutters down, consider using them for a project before adding them to the pile of trash before garbage day — you'll only wish you'd thought of these things sooner!
Plant Holders
Growing herbs and flowers? Think about all you can do with the gutters! Instead of potting everything, you can fill the gutters with dirt, and plant seeds! These can be affixed to the side of your home, a standing pallet, or you can build your own shelf for them! By raising the plants, you'll have the option of housing more than you'd be able to on the ground. This helps for smaller plants, like parsley and basil.
Ice Buckets
Enjoying a picnic? Be sure to try this hybrid cooler that will dazzle your guests. Cut a horizontal hole down the table, a little smaller than your gutter. From here, you can drop the gutter in, or flip the table over and affix it with screws, although we prefer the first. Now, you have a storage option for drinks and anything else that needs to be chilled upon serving. Drinks can be reached without getting up, and you can display a wide array for your guests! Plus, this is probably something they haven't seen before. Bonus points for creativity!
If you are replacing your gutters, don't think twice about a Gutter Helmet. Do the job once, and never worry about cleaning your gutters again. Our patented system repels debris and critters from making their way into them, leaving you with free-flowing, water diverting gutters for life!
If you're thinking about having a Gutter Helmet installed, call Keystone Gutter Helmet and request a quote. We're proud to serve Wyomissing, and the surrounding areas. For tips, tricks, and to stay up to date on what we're doing, 'like' us on Facebook!