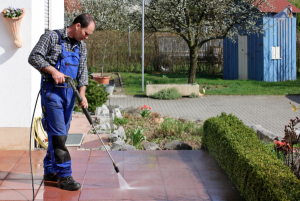 Keeping the outside of your home clean is just as, if not more important than the inside. We can't control the climate, and neglecting the effects of inclement weather can have serious effects on homes. Lucky for us though, there are a few things we can do in order to prevent a few bad days of weather from turning into a huge problem at home.
Powerwashing:
It's a favorable idea to invest in a pressure washing machine if you haven't already. With rain and other forces of nature, deposits can be left on your porch, foundation, and siding. Mold growth and deterioration can occur here, and it's a good idea to stop it before it becomes an issue. Plus, this will keep all parts of your home looking new and colorful!
Roof Cleaning:
Bad weather can cause debris to fly off of trees and other shrubbery, causing buildup in unwanted places. Roofing is a very common area where this occurs, and can lead to dangerous flooding and damage. A Gutter Helmet is essential for keeping your gutters clean and home free from the chances of a flood.
Your first step should certainly be to plan from the top down, as this is where the majority of the debris and buildup will start. When you're ready to never have to clean your gutters again, Keystone Gutter Helmet is here to supply you with the end to your problems.
Keystone Gutter Helmet guarantees your gutters will be free from debris, insects, and other things that can lead to clogs and leaking water. If you're thinking about having a Gutter Helmet installed, call Keystone Gutter Helmet and request a quote. We're proud to serve Wyomissing, and the surrounding areas. For tips, tricks, and to stay up to date on what we're doing, 'like' us on Facebook!