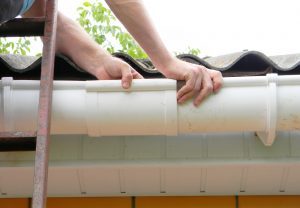 Trees are beautiful, aren't they? They add greenery, dimension, and shade to any landscape. Don't you love to sit beneath a towering oak perhaps reading a book or enjoying the afternoon? However, they can also 'leave' quite the mess, (Pun intended). They drop leaves indiscriminately and even sticks and debris. For homeowners, this can cause your gutters to clog, and build up with muck and grime.
Keystone Gutter
Keystone Gutter Helmets were precisely engineered to work with your existing gutters without extending the profile. They fit securely over the open top of your gutters to prevent leaves and debris from collecting inside. By having the Keystone Gutter Helmet professionally installed, you will save yourself a headache and danger of climbing shaky ladders and risking injury. Keystone Gutter Helmets are expertly created to last and are manufactured with poly-butyl sealant. They are warranted for life! These artfully crafted Gutter Helmets come in a variety of colors to match the existing architecture of your home.
K-Style Gutters Vs. Rounded Gutters
K-Style gutters are the most commonly installed gutters due to their crown molding style design, ease of installation, and compatibility with most modern architecture. These can be installed in precut lengths, which means you can replace only a section if needed. You can also opt for a seamless install, however, you would need to replace the entire gutter system. The k-style are convenient because they can be mounted to existing fascia board, using standard brackets and sealant.
On the other hand, rounded gutters are are an alternative for people with more elaborate architecture, or rounded style design. These are often more costly to install, as well as more complicated. You can choose either type for your home and they will both work well with Keystone gutter helmets.
Don't Hesitate! With a Keystone Gutter Helmet installed, these potential problems are resolved thus adding years to your gutters. They also help direct water away from your home! Professionals are standing by, looking forward to showing you all of the benefits and quality of Keystone Gutter Helmets. Call and schedule your free estimate today!