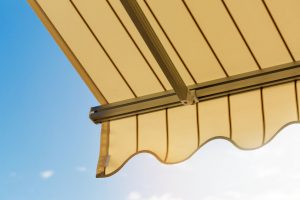 Picture this: it's a bright summer day, and you'd like to spend some time outside on your patio. The problem is, it's too darn hot! What's more, your outdoor furniture is fading in the sun.
Fortunately, there's an easy solution to these problems—the SolarShield retractable awning by Toff Industries, Inc. This fantastic product offers several unique benefits; you'll be able to enjoy your property, reduce your energy consumption and protect your furniture from sun damage.
Each SolarShield awning is custom-made just for you from 100% marine-grade acrylic fabric. With more than 100 fabric colors and styles to choose from, you'll be able to find the perfect look for your home. All SolarShield fabrics are tested for color fastness, strength and stain resistance. They're also 20 percent more water repellent than other similar awnings, and they come with a ten-year warranty.
Because SolarShield awnings are fully customizable, they can be made to almost double the extension length of other awnings. This means that that you and your family can enjoy more out of your outdoor space all summer long. What's more, SolarShield awnings are built to last. They're designed to withstand the impact of wind, heavy rain and intense storms.
Consider it an investment. Installing a SolarShield awning will provide long-lasting beauty and protection to your property while increasing the overall value of your home.
Ready to have a SolarShield retractable awning installed on your home? If you're in Berks, Lehigh, Northampton or Schuylkill County, contact Keystone Gutter Helmet today at (610) 372-4383 for your free, no-obligation consultation and estimate. This way, you can start enjoying the outdoors with your SolarShield retractable awning this summer!