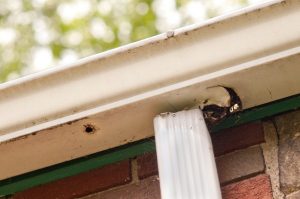 While a good rainstorm makes for great ambient noise inside, it's not so great for your home if you can't route the water properly. If it floods, it can cause costly damage to your home. Your downspout is designed specifically to prevent flooding and over-saturation of your soil by directing water away from your home. But what happens when something goes wrong? While maintaining your downspout isn't hard, it's important to periodically make sure there aren't any problems with it. Here are a few ways to do so.
Check the Attachment to Your Home. Some downspouts are fastened to the wall with a bracket and screws, but may become loose or weak over time. If you experience high winds and heavy rainfall, it's a good idea to look at the fasteners and make sure they aren't loose.
Routing is important as well. Check the top of your downspout and make sure that it's entirely underneath your gutter system. If not, there's an excess amount of water that isn't being properly routed away from your home. This can lead to flooding, mold buildup, and bugs — we're fairly certain those are the last type of guests you'd want in your home.
A good run-off path is great to have. If you're not into collecting your rainwater for future use, a runoff trail is necessary. This will direct the water away from your home, allowing you to rest easy, knowing there's no buildup anywhere near your home. The best part about these directors is they can be built or painted to match your home or patio, and you won't even know they're there!
A Gutter Helmet is a necessity. While your downspout is used to direct water, if debris becomes lodged inside, water will build up and clog your entire system. To avoid this, consider installing a Gutter Helmet and allowing the water to flow down and out effectively.
Keystone Gutter Helmet guarantees your gutters will be free from debris, insects, and other things that can lead to clogs and leaking water. If you're thinking about having a Gutter Helmet installed, call Keystone Gutter Helmet and request a quote. We're proud to serve Wyomissing, and the surrounding areas. For tips, tricks, and to stay up to date on what we're doing, 'like' us on Facebook!