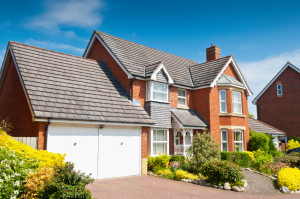 Having new shingles installed on your roof is a pretty large investment, so shouldn't you make sure that you're getting the best product? Depending on climate and your taste in material, there are a ton of different options you can choose from. Ultimately, it's best to consult with your installer and see what they recommend for the job.
Asphalt shingles are generally the most popular, due to their low cost. Additionally, they are available in many colors, and contain waterproofing options that will repel water, allowing it to flow off freely. Generally, you should expect up to 50 years of durability with asphalt.
Slate and tile are popular too, depending on your taste. Often found on upscale homes, these tiles are generally a bit more heavy than the others, but tend to last longer in terms of lifespan. One disadvantage to choosing this option is their low weight resistance. They can crack under the foot pressure of someone walking on them, which complicates roof cleaning.
Metal roofs are low maintenance, and very lightweight. This helps lower the amount of weight held by the roof during inclement weather. Installation is a bit trickier, and should only be performed by someone with experience in the field. When the metal loses it's shine, repainting the entire area is actually cheaper than a replacement roof!
While you're contemplating your new roofing options, consider having a Gutter Helmet installed as well. Debris buildup will become a thing of the past, and you won't ever find yourself clearing out clogs again. Did we mention they come with a lifetime warranty?
Keystone Gutter Helmet guarantees your gutters will be free from debris, insects, and other things that can lead to clogs and leaking water. If you're thinking about having a Gutter Helmet installed, call Keystone Gutter Helmet and request a quote. We're proud to serve Wyomissing, and the surrounding areas. For tips, tricks, and to stay up to date on what we're doing, 'like' us on Facebook!