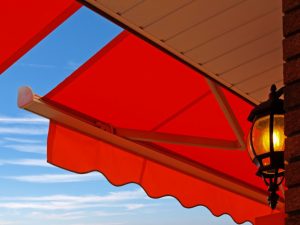 The weather is getting warmer, and that means one thing: more time outside! If you want to get the most out of your backyard this summer, you'll need a way to protect yourself and your home when the sun gets too hot. That's where patio awnings come in handy! There are several benefits to having an awning to help you get through summer more comfortably.
Protect Your Patio
The sun can do major damage to your patio. Constantly-shining UV rays can fade your decking or patio stones, along with your furniture. It's awful when you buy new patio cushions for the summer only to get rid of them at the end of the season because the sun faded the colors so much. An awning keeps the sun from shining and damaging your belongings. Plus, it keeps the rain and snow off you and your guests, so you can still enjoy the warm weather even if it's drizzling outside.
Protect Your Feet
That sunlight can really heat up your backyard. Everyone's experienced it, but no one likes the feeling of going outside barefoot and feeling like you're walking on hot stones. Think about your pet too! You can put shoes on to protect your feet from the hot patio, but they don't have that option. (If it's too hot for your feet, it's too hot for their paws.) Patio awnings keep your backyard cool enough to walk in.
Protect Your Skin
One of the worst things about sitting outside on a hot summer day is potentially developing a sunburn. While you should be wearing sunscreen when you go outside anyway, an awning can protect your skin from experiencing damaging burns, and not deprive you of heat.
Keystone Gutter Helmet can install a SunShade Retractable Patio Awning on your home, so you can enjoy your summer in style. Each SunShade awning is custom made to provide long-lasting beauty and protection to your home and yard for years to come and is warranted for 10 years. For more information or to get a free quote, call us at 610-372-4383.