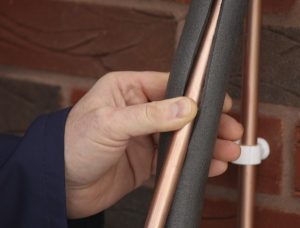 It's that point during the year where we must now face the reality of dropping temperatures — and while it isn't snowing on the regular just yet, it could theoretically happen any day now. With the reality of subzero temperatures rapidly approaching, there comes the notion that protecting your home is somewhat of a necessity. When dealing with ice and snow, the last thing you need is a leak or backup. Specifically, your piping plays a large role in this process, and it's important to keep it in check. There are a few things you can do at home to prevent this from happening.
Protect your pipes. Water can easily freeze inside of a pipe that's exposed to cold temperatures. Fighting this is easy, with the opportunity to wrap these pipes in a small blanket of foam, available at almost all hardware stores. Additionally, you can use warming coils to do so.
Fix leaks before they happen. Check all of your faucets, sinks, shower heads, and utility rooms for any sign of puddles or moisture. Fixing these leaks can prevent pipes from freezing and costly leaks from forming due to the ice expanding.
Drain your water heater. In certain areas, hard water can build up in your tank, causing rust and corrosion. This buildup can get into your drinking water, cooking water, and much more. While this might not be the worst thing in terms of leaks, it can contribute to a backup in water flow, which over time can certainly cause leaking.
Ditch the outdoor hose. Unless you're washing your convertible in the middle of February, you don't need it for anything. Disconnect it and toss it in the garage. Drain the piping and plug it up if you can. Failure to do so can allow water to freeze which can expand and crack piping.
Other than your piping, your next step is to keep your roofing in line. From snow and ice, your shingles and gutters can take a pretty hefty beating. Combat these possibilities and inquire about having a Gutter Helmet installed to prevent sagging gutters, ice damage, and flooding. Additionally, Helmet Heat is available to keep icicles from forming on your roof.
If you're thinking about having a Gutter Helmet installed, call Keystone Gutter Helmet and request a quote. We're proud to serve Wyomissing, and the surrounding areas. For tips, tricks, and to stay up to date on what we're doing, 'like' us on Facebook!