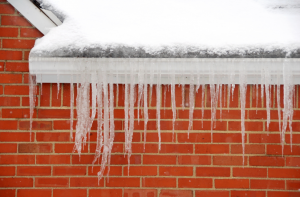 With winter virtually around the corner, it's time yet again to begin thinking about how you're going to protect your roofing, gutter systems, and the inside of your home. With nasty ice that can form on and around your living space, there has to be something that can be done, right? Luckily, there is! When considering how much can accumulate over the course of three months, it might be a good idea to look into Helmet Heat, which reduces the risk of ice damage.
So, What Are Heated Gutters?
In short, Helmet Heat is an addition to Gutter Helmet that can allow you to retain the functionality of all that a Gutter Helmet has to offer and then some. Through a revolutionary addition, this unit warms itself when initiated to keep the temperature of your gutter helmet higher than the freezing point of water. This will raise the overall temperature, and prevent the formation of ice on your gutter.
How Can I Get This?
If you're interested in owning something to assist in the diversion of ice this winter, it's a good idea to give your local Gutter Helmet installer a call. This add-on can be installed at the same time as the Gutter Helmet, which will act also as a protecting force against damaging debris all winter long. Once installed, you'll be able to enjoy knowing your gutters are protected from the harsh effects that winter can bring. The best part is, these items are warrantied for LIFE! Should anything go wrong, it's covered!
If you're thinking about having a Gutter Helmet installed, call Keystone Gutter Helmet and request a quote. We're proud to serve Berks County and the surrounding areas. For tips, tricks, and to stay up to date on what we're doing, 'like' us on Facebook!