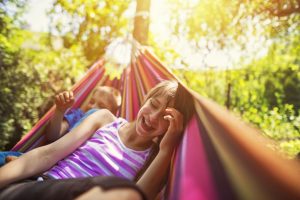 Now that it's summertime, you're going to be spending a lot of time with your family and entertaining guests. While all you need in order to have a good time is your loved ones, there's no harm in beefing up your backyard scene to amp up the vibe. Use these fun ideas to improve your backyard and make gatherings even more fun.
Built a Fire Pit
Nothing says summer like roasting marshmallows over a fire. All you need is sand, some bricks, and wood, and you can create your own fire pit in your backyard. If you don't feel like making one yourself, you can pick one up at any outdoor store.
Invest in a Hot Tub
Few things are better than relaxing in a hot tub after a stressful day. Plus hot tubs are always popular during parties for those who like to sip a drink and soak the night away.
Hang a Hammock
Easy to install and extremely simple to use, hammocks are a great way to add lounging space and improve your backyard at an affordable price. You can hang it between trees or buy one with a base, depending on your how backyard is set up.
Built a Treehouse
Give your kids a new place to hang out in the form of a treehouse. They'll have a great time imagining they're on different adventures, and you have so many ways you can build and decorate it. Just make sure to check with your town's rules regarding building before you get started.
Add an Awning
You'll want to enjoy the nice weather as much as possible, so protect yourself and your guests from the burning sun. Awnings give you the comfort and safety of shade, so you never have to cut your relaxation time short just because the heat is getting too strong.
Each SunShade Retractable Patio Awning from Keystone Gutter Helmet is custom-made and warranted for 10 years to provide long-lasting beauty and protection to your home and backyard for years. For more information or to get a free quote, call us at 610-372-4383.