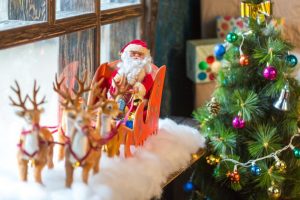 When it comes to decorating your home for the holidays, you can take the typical red and green color scheme route or you can take a little more imaginative route and create a snowy scene that looks like it's straight out of a Christmas movie. You don't Santa's magic to turn your basement into a winter wonderland — you just need a few decorations and a little imagination.
Swap Out Furniture Decor
If you normally have green, brown, or other-colored pillows and throws, replace them with white decorations. Swap out your furniture decor with white pillows, blankets, and lamp shades. If you want to go the extra mile, you can also place white slipcovers or throw covers over your couches and chairs so they match the theme.
Incorporate Snowflakes Everywhere
Make snowflakes curtains by using stencils to paint light blue snowflakes onto inexpensive white curtains. Cut out paper snowflakes and hang them from your ceilings using fishing line. Shop around for snowflake candy dishes and trinkets, and hang snowflake garland across door openings. If you can "snowflake" it, do it.
Create Wintery Scenes
Use foam snow spray to mist your windows and sprinkle fake snow across window sills. You can also trim some white plush lining to fit across tabletops to create a snowy scene. Top it off by throwing some pine cones and evergreen tree branches into the mix for an extra winter touch.
If you want to take your basement from drab to fab, call Keystone Gutter Helmet. Our technicians have worked in a variety of construction areas, so they have the knowledge to help you realize the full potential of what your basement could be.