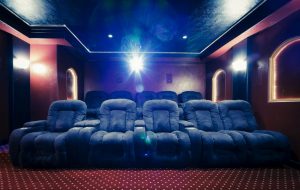 As the new year rolls on, you may be thinking about renovations you want to make to your home and which ones are the best idea. If you're thinking about making a few changes to your basement, consider following some of these tops basement trends for 2018.
Open Concepts
Open concepts have been very popular for upper floors in homes, so it's no surprise that the trend has spread to basements. Open floor plans allow you to design and decorate your basement to be a number of things — a playroom, an entertainment space, etc.
Enclosed TV/Theater Rooms
Having a designated theatre room is every entertainer's dream, and what better place to make one than your basement? It's most likely underground anyway, providing extra darkness, and you'll most likely be secluded from the rest of your home — it's the perfect setting for a theater.
Guest Suites
If you're someone whose family comes to visit often, it may be worth your while to turn your basement into a kind of suite for guests. With a few walls, electrical wiring, and plumbing, you can turn your basement into your own bed and breakfast for your guests.
Music Auditoriums
Related to the trend of turning your basement into a theater room, a little soundproofing is all you need to create a music auditorium for the musician in your family. Plus, it's a great way to contain all the practice noise to one area of your home.
If you want to take your basement from drab to fab, call Keystone Gutter Helmet. Our technicians have worked in a variety of construction areas, so they have the knowledge to help you realize the full potential of what your basement could be.