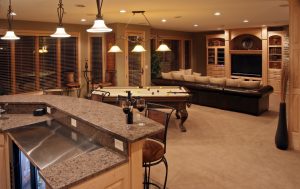 In the past, a basement was dedicated to acting as the kids' playroom when it was raining outside or the to do laundry, etc. However, over recent years, contractors have realized that basements can be turned into a viable living space at a lesser cost than it would be to add onto a first floor. Today, a basement remodel can give you around 70% payback and is one of the smartest home improvements to invest in. If you're thinking of remodeling your basement, follow these tips for creating the best living space possible.
Know the Resale Value
The appraised value of underground space is around half of what above ground space is. As a general rule of thumb, you should spend no more than 10% of your home's value remodeling your basement.
Think About Payback
If you're not concerned about payback, you could deck out your basement with a sauna, gym, or bar. However, if you are concerned about payback, make your basement function as a space that appeals to a wider group of people. A family room, home office, or extra bedroom is always a good idea.
Watch Out for Moisture Problems
If you've had moisture problems in your basement before, tackle those issues first by installing sump pumps, French drains, or entirely new furnishings. Make sure you also have the proper dehumidifying and HVAC systems to keep the space comfortable. When it comes to your choice of materials, opt for non-wool carpet tiles and sheet rock, since these don't trap moisture and humidity as much as other materials do.
At Keystone Gutter Helmet, we don't just work with gutters – we work with basements too! Our installation technicians have worked in many areas of construction and can use their expertise to help you remodel your basement and bring years of enjoyment and added value to your home. For more information or to get a free quote, contact us at 610-372-4383 today!