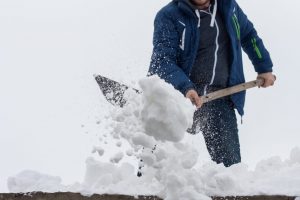 With the intense winters we get in Pennsylvania, it's no wonder you'd want to get rid of all the snow that will inevitably block your driveway and walkways. It's important to remember that all that snow is pretty heavy (which we're sure you feel when you're shoveling) so it shouldn't sit atop your roof too long, lest it weighs your roof down.

When you clean snow off your roof, you want to make sure you're doing it safely, so follow these tips.
Use a Snow Rake
If you have a two-story home or a pitched roof, you're better off — read: safer — using a snow rake to clean snow off your roof. It's never a good idea to climb up on onto a slanted or pitched roof, especially since you likely won't be able to tell if there's ice underneath the snow that could cause you to slip and fall.

When using a snow rake, it's best to:
Start at the edge of the roof and work your way inward.
Try to only rake off a few inches at a time, rather than try to make it all the way down the the roof on the first sweep.
Be Careful on Flat Roofs
Since you have less of a chance of slipping and falling on a flat roof, it's a bit safer to climb onto these and shovel off snow. Make sure you're shoveling off the side of the roof away from the building.
Be Mindful of Ice Dams
If a particular area of your roof or attic is uninsulated, ice dams can form at the edge of your roof or even in your gutters, weighing down your roof and fascia and making it easier for you to slip.

If you notice ice dams on your roof or in your gutters, pour hot water on them to help the melting process — just make sure to have someone give you a hand doing so.

Helmet Heat prevents ice and snow from freezing on your roof and prevent your from having to clean snow off your roof in the first place. Ask the experts at Keystone Gutter Helmet how they can help keep your gutters and roof safe this winter.