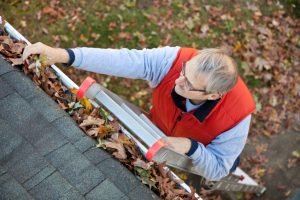 Although we're still in the middle of winter, spring is just right around the corner. The Spring season brings new life to the outdoors. Flowers are blooming and yard work is being done, so the summer can be enjoyed looking out onto your beautiful landscape. One important thing to remember is to make sure you take care of your gutters. Spring gutter cleaning is just as important as getting the rest of your home ready for the warmer weather.
Clean Them Out
The biggest problem homeowners experience with gutters is clogging. When leaves and debris build up in your gutters, water has nowhere to go but back onto your roof or down the side of your home. Since this can cause major water damage, make sure to rid your gutters of any debris that is caught in them. Take a scoop or leaf blower to your gutters to remove leaves and twigs, and use a hose to flush out remaining gunk.
Check The Fascia
Inspect your fascia to make sure it is still in good condition. If you find yourself constantly re-spiking your gutters or notice that they keeping pulling away from your home, you probably have fascia problems. You'll want to fix this right away to avoid damage to your home.
Look for Other Damage
Gutters with cracks are about as useful as buckets with holes. Branches and twigs can cause holes in your gutters, while pooling water can cause them to crack and sag. Caulk holes and cracks, and replace pieces that are damaged beyond repair.
A lot of gutter problems stem from debris clogging your gutters and downspouts. Wouldn't it be nice if there was a way to prevent that gunk from getting in your gutters in the first place? Well, there is! Keystone Gutter Helmet's patented gutter protection system keeps debris out of your gutters, so water can drain freely away from your home. Call us at 610-372-4383 to get your gutter helmet system today!