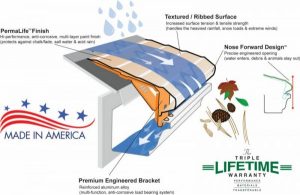 Have you ever wondered how your Gutter Helmet actually works? Many people already have the addition on their home, but aren't sure what it actually does when in fact, there is a lot that goes into the actual product that saves you so much time. If you're thinking about a way to protect your home, this might be the option you're looking for.
Design
Gutter Helmet comes in eight colors, designed specifically to blend in with your home. This way, it doesn't look like there's something ugly on your roof. It's designed using a high-quality poly sealant and attached with Dacromat fasteners. Not only do some methods have the option of not even touching your roof, they're also warrantied and approved by many major roofing manufacturers.
Use
There are multiple layers to the Gutter Helmet which include a multi-paint layer which protects against all corrosive materials, including salt water, ice and fading. The textured surface increases surface tension and handles heavy rainfall, snow and wind! With it's 'nose forward' design, it allows water to enter , while protecting the gutter from debris, and unwanted guests.
The premium bracket that holds the guard together is also constructed of a high grade, reinforced aluminum. It is protected by an anti corrosive material which allows the lifespan to be extremely long, also backed by a warranty!
Should anything ever go wrong with your Gutter Helmet, also know that you're protected for life by the warranty. Give us a call and describe the problem — we'll come out to you and replace the damaged part, free of charge.
If you're thinking about having a Gutter Helmet installed, call Keystone Gutter Helmet and request a quote.