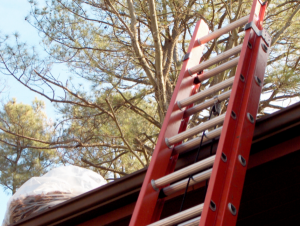 Cleaning your gutters can be a time-consuming task — nobody wants to climb up on a ladder and scoop out debris on a sunny weekend afternoon. However over time, your gutters and roofs can build up quite a mess — if you choose to brave the heights and perform gutter maintenance, here are some safety tips to abide by.
Wear Protective Gear
If you own a helmet, it's a great idea to wear it! In addition to protecting your head, you should also wear a pair of gloves when cleaning the debris off of your roof and gutters. If you haven't been up there in some time, weathered debris and objects can accumulate. Keep in mind that It is important to protect your hands from cuts and infections. Older gutters may have sharper edges that are also dangerous and harmful.
Get Yourself a Good Ladder
If your house has high roofing, you're going to want to take every possible safety precaution in order to protect yourself. A new ladder in good condition can mean the difference between a clean gutter or a bruised bottom.
Call a Friend
There's nothing safer than having someone make sure you're stable on the top of your ladder. As Spring approaches, excess rainfall can cause softer soil, which can lead to your ladder sinking and tilting. If someone isn't watching and holding the base of your ladder, you run the risk of falling. You can always thank them with pizza — it definitely outweighs the cost of injuries!
While doing the job yourself is a great way to ensure a clean roof and catch a nice view, a Gutter Helmet can solve these problems with one simple installation. Offering a lifetime warranty, you're guaranteed to keep your gutters free from debris, insects, and other things that can lead to clogs and leaking water. If you're thinking about having a Gutter Helmet installed, call Keystone Gutter Helmet and request a quote. We're proud to serve Wyomissing, and the surrounding areas. For tips, tricks, and to stay up to date on what we're doing, 'like' us on Facebook!