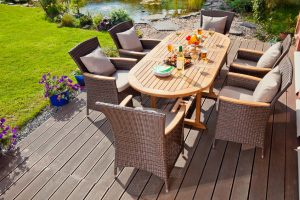 You already know that the sun can damage your skin, but did you know that it can also damage your outdoor patio furniture by bleaching fabrics and making plastics turn weak and brittle? The good news is, you can prevent sun damage to your furniture and keep enjoying it for many years to come with these helpful tips:
Take It Inside
The easiest way to protect your patio furniture is to bring it indoors when the summer season is over, to avoid unnecessary exposure to the elements. If you're short on indoor storage space, consider investing in collapsible furniture that can be stacked or stored discreetly with wall hangers.
Switch up the Layout
Arrange your outdoor furniture to minimize sun exposure as much as possible. For example, placing an outdoor sofa near your house can maximize the shade it receives from the building. Avoid placing furniture – especially upholstered and plastic pieces – in areas that receive direct sunlight all day long.
Try Sunscreen for Your Furniture
When properly applied, UV protection sprays can help extend the life of outdoor patio furniture. Scotchgard Water and Sun Shield is one popular option that is ideal for protecting upholstery fabrics from sun damage. For plastic, wooden or wicker furniture, consider using a UV-resistant paint such as this spray-on clear coat from Krylon.
Invest in a Retractable Awning
With a SolarShield retractable awning, you can enjoy full sun when you want it, and protect your patio furniture from sun damage when you don't. With more than 100 fabric colors and styles to choose from, you'll be able to find the perfect look for your home. SolarShield awnings are also built to last, with anti-corrosive stainless steel frames and 100% marine-grade acrylic fabric that's designed to withstand heavy winds and rain.
Perhaps the best part of having a SolarShield retractable awning is that you'll be able to comfortably enjoy relaxing on your patio even on the hottest days of summer. To learn more, feel free to give us a call or contact us online for a free, no-obligation consultation and estimate!