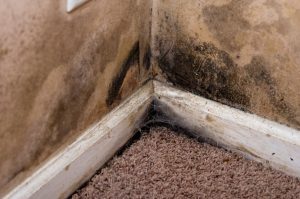 Whether you have a finished or unfinished basement, there are some common problems that we see almost every day. Most basement problems can be avoided with proper maintenance and care. Here are some common basement problems and how to prevent them from happening to you:
Moisture
Moisture in homes is a typical problem. While keeping your home 100% free from moisture is virtually impossible, too much moisture is the real culprit. Here are some things you can do to prevent moisture from invading your basement:
Add Soil – adding soil around the foundation of your home Soil around the foundation can block and absorb moisture before it can enter your basement.

Add a water drainage system – A water drainage system can deter water from getting into your basement. It can capture the water where the foundation meets the ground and direct away from your home.

Seal cracks – If you notice any cracks in your foundation, fill them in to keep moisture out.
Leaks
Leaks can cause significant damage, so it's critical to spot basement leaks and stop them before the situation gets out of hand. Here are some telltale signs you may have a leak in your basement:
Wet carpet

Buckled hardwood floor

Mold and mildew on drywall

Discolored foundation

Dried water spots and streaks on walls or foundation
If you find leaks in your basement, check your gutters. Poor performing gutters that aren't draining correctly can cause water to flow down the side of your home instead of away from it. You can avoid leaks by ensuring you give your gutters regular cleaning and maintenance care.
Flooding
One of the biggest basement headaches anyone can encounter is flooding. Whether your flooding is one inch or one foot, it's never good. Flooding can happen for many reasons such as ice and snow build-up on your roof or faulty gutters. If you have a basement flood, ensure you are following to clean up safely:  
Disconnect all power sources  – turn off circuit breakers

Remove area rugs, carpets, clothing, and furniture from the basement

Once all items are removed, let the basement dry out.

Disinfect to prevent harmful mold growth
If you have experienced any water damage in your basement, Keystone Gutter Helmet can help! Not only can we install a gutter system to prevent basement water damage and other problems, but our skilled technicians also have the knowledge and tools to turn your finished basement vision into a reality. Contact us today for a free estimate.