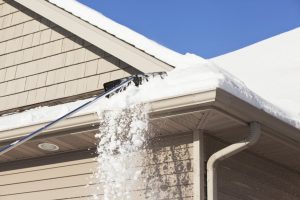 We've said it before, but winter is going to be a difficult one this year. Between the cold temperatures and occasional blizzard, we're in for a long few months. Equally preparing for the coming temperature and precipitation changes should be your home, which acts as your first line of defense. As ice and snow begin to pile up on your home, the potential for damage can be that much greater. The main question many find themselves asking is "Am I protected?" — well, depending on your level of preparation, possibly. Take a look below to see if you're at risk of damage this season.
Condensation
Heating your home which ultimately rises into your roofing can lead to a big problem. Because it clashes with ice cold snow, it can cause condensation, which can lead to odors, mold and more. Proper insulation is the key to preventing this from happening.
Icicles
These are one of the worst nightmares for gutters, which can lead to damage to the gutter system itself and damage to the roofing and home. An effective way to remedy this issue is a Gutter Helmet with Helmet Heat, which will warm up to a temperature that prevents icicles from forming on your gutters.
Excessive snow
If you've shoveled dense snow before, you know how heavy it can get. If all of this has been accumulating on your roof, it can lead to sagging roofing, leaking, and damage to main components of your home. To combat this, exhaust all options in which you remove snow and ice from your roof.
Clogging
Though your gutters should be cleaned out before the winter hits, failure to do so in any way can lead to sagging gutters, and leaks in your home. Of course, the easiest way to combat this year round would be to have a Gutter Helmet installed, and never worry about having to keep them clean.
Before it's too late, make the call and inquire about having a Gutter Helmet installed on your home.You can easily and quickly request a quote. We're proud to serve Wyomissing and the surrounding areas. For tips, tricks, and to stay up to date on what we're doing, 'like' us on Facebook!