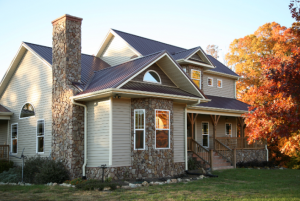 When homeowners want to increase the value of their homes, they usually look into adding an additional bedroom or updating the bathrooms. However, one of the best improvement projects you can do is add gutters to your home. It may not be the most glamorous project, but it's one that is a major key when it comes to protecting your home from water damage.
What is a Gutter System's Job?
Plain and simple, gutters are meant to drain water that falls onto your roof away from your home. They keep that water from dripping onto the side of your home and damaging your siding, windows, doors, and foundation. If you want to try a new trend, you can collect rainwater via your gutters, and reuse it to water your garden and lawn. If you install a filtration system, you can even drink clean rainwater. Recycling rain like this can also help lower your water bill each month.
What Gutters Should I Install?
Adding this extra layer of protection to your home can increase its value if you decide to move. The type of gutters you install will determine how much higher your home's value can become.
If you're on a budget, install vinyl gutters since they are relatively inexpensive. They won't rust or chip and are very low maintenance. They are also a great option for DIY-ers.
If you have a mid-range budget, try galvanized steel. This material is more durable than other metals and is able to keep its shine for longer periods of time. They have a slightly higher price tag, but you definitely get your money's worth.
If you have a high budget, go for seamless gutters. These offer the best protection for your home and will result in the highest value increase. They are usually available in a variety of styles and colors, so you have plenty of options to choose from to match your home's aesthetic.
A way to increase your home's value even more is by installing protection systems on your gutters. Keystone Gutter Helmet can install our patented gutter helmet system onto your gutters so you'll never have to worry about them getting clogged with leaves or debris. We serve Berks, Lehigh, Northampton, and Schuylkill Counties, so call us at 610-372-4383 to start having your gutters protected today.