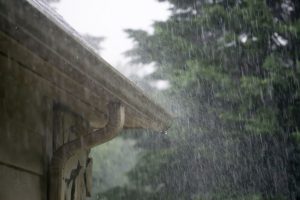 There are many ways a severe storm can cause damages to your home. A storm can knock out your power, cause leaks in your roof, and take down tree branches in your yard. All of these things are hazardous to you and your family, but there are ways to prevent a storm from doing damage. No matter the time of year, bad weather can wreak havoc on your home if you're not well prepared. Don't put yourself in a position to suffer from the weather – guard your home against big storms with these tips.
How to Guard Your Home
Repair Your Roof – Winter snow and heavy spring rainfall could have done a bit of damage to your roof, so it's important to make any necessary repairs in order to prevent leaks or other water damage. Replace broken shingles, fix the flashing, and cap your chimney to keep your home safe.
Seal Your Doors and Windows – Reapply caulk around the edges of your windows and doors to prevent any water from getting into your home during a big storm. You should also seal any areas where wires or pipes enter your home.
Check Your Sump Pump – Heavy amounts of rain can cause sewage backup problems, so you should make sure your sump pump is working properly and even consider getting a battery-powered backup if you live in an area that floods often.
Trim the Trees – If you have a tree-filled yard on your property, call someone to remove any and all dead branches so they don't fall during a storm and potentially damage your home. Ideally, you shouldn't have any loose branches within 10 feet of your home.
Check the Gutters – This one is very important. During a big storm, your gutters are the MVPs at getting water off and away from your home. Fix any areas of your gutters that are cracked, rusted, sagging, or loose, as well as clean your gutters to allow water to easily flow through them.
The easiest solution is to invest in a gutter helmet protection system.
Keystone Gutter Helmet
Not having to clean your gutters checks one thing off your list of ways to guard your home against big storms. At Keystone Gutter Helmet, we specialize in gutters. We can supply you with a gutter helmet protection system that will make you not have to clean your gutters anymore. It will also prevent debris and other things from entering your gutter, especially during a bad storm. 
Contact Keystone Gutter Helmet at 610-372-4383 or visit us online for more information!