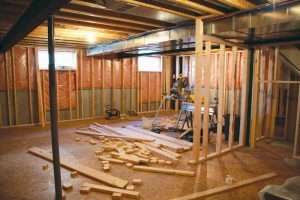 Congratulations on deciding to give your basement a makeover! While you already envision how it's going to look and you can't wait to get to decorating, there are some things that you will need to do before your basement remodel project gets underway.
Here are some tips!

Clean Out
Cleaning out your basement may be the most obvious of tasks. However, there are two bonuses to getting your basement in order before a remodel:
You have the chance to de-clutter! When cleaning out and organizing your basement, create a "to keep" area and a "to get rid of" area. Consider donating items to your local church or charity before tossing things in the trash.

Once the area is cleaned out, you can give your basement a once over to identify any problems before your remodel project starts.
Identify Leaks
Water and leaks are often a basement problem. Conduct a thorough inspection of areas where leaks and water damage may have occurred. For example, check your foundation for cracks and fix as soon as possible. There is nothing more frustrating than having a basement remodel completed only to find that there were problems that should have been addressed prior.
Know Where to Install Additional Electrical Outlets
Your unfinished basement probably only has electrical outlets for a washer and dryer. From TV's to gaming consoles, you may need some extra outlets if you are planning on using your new finished basement for entertaining.
Waste Removal
Keep in mind that your basement remodel is a construction project. Since it will produce quite a bit of waste, it's best to have a plan in place on how you want to have trash and other debris removed. While you may want to throw everything to the curb for garbage pickup, it may be a bit too much for your local sanitation department to handle. Dumpster rental is usually the best option.
Keystone Gutter Helmet can assist with any basement remodel project! Our installation technicians have worked in many areas of construction and can use their expertise to help you remodel your basement and bring years of enjoyment and added value to your home. Contact us today for a free estimate!