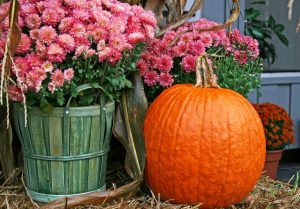 Fall is a time for fun, festivities, and frolic — and nothing gets you more in the mood for fall like dressing your home in autumnal colors and decorations. But there's no need to stop at the inside of your home. There are plenty of easy ways to decorate your yard for fall too!
How to Decorate Your Yard for Fall
Mix Up Gourds
Gourds are a staple when it comes to fall decorating, so pick some up at a pumpkin patch, and lay them across your front steps, patio, and even your window sills. You can place them randomly or set them up in a line along your walkway.
Mix it Up with Mums
Mums are typically the go-to fall flowers, and they come in plenty of colors for you to choose from. You can leave them in their pot or make them in more festive by placing them in pumpkins, wagons, or caldrons.
Go Happy with Hay
Haybales give a rustic feel to your yard, and even give a snack to some fuzzy critters that may live around your area. Plus, once winter hits, you can throw the hay onto a compost pile and use it as fertilizer.
Use Colors Other Than Orange
Sure pumpkins and gourds are easy to find in orange, but try to find and use white ones to decorate your yard with. If you can find any natural ones, just paint a few different colors.
Hang a Wreath
Wreaths aren't just for Christmas. You can just as easily use hay, corn husks, and leaves to make a fall-themed one.
At Keystone Gutter Helmet, we're all about keeping your yard beautiful and clean, which is why we offer the top-rated gutter protection system in all of Pennsylvania to ensure you don't end up with water damage to your yard or home. For more information or to schedule a service, call us at 610-372-4383.