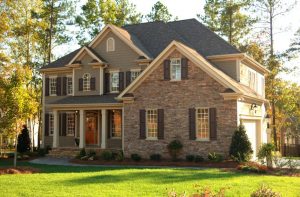 Having a brick facade can give your home a sophisticated look and boost its curb appeal, but matching your siding to that facade isn't as simple as snapping your fingers. There are a few ways you can coordinate your siding and brick so they match the aesthetic you have for your home and enhance your home's curb appeal.
Match It Exactly
If you want your home to look more uniform, match the siding as close to the color of your brick as possible. If you have red brick, choose a red-colored siding; if you have dark brown bricks, go with a chocolate brown siding.
Choose Tone-on-Tone
Choosing tone-on-tone colors allows you to give a unified look to your home while still showing the different materials used on the building. In this coordination, make the siding one or two shades lighter or darker than the color of your brick. For example, if you have light grey bricks, consider going with a dark charcoal siding.
Stay Neutral
If you really want to keep your home looking clean and simple, choose a neutral-colored siding to go with your brick facade. White offers a classic look, while beige gives a warmer feeling.
Go Bold
If you want your home to stand out from the rest of the ones on the block, choose a bold-colored siding to contrast your brick and make your home pop. For example, if you have red brick, choose a navy colored siding, or pair brown brick with blue/gray siding.
After you've put all the effort into matching your siding and brick, you'll want to make sure they're both protected from the elements — and that's where your gutters come in. As long as your gutters are able to flow water away from your home, your siding can be safe from water damage. At Keystone Gutter Helmet, we care about protecting you and your home, which is why we offer Helmet Heat and Gutter Helmet to keep your gutters and home safe. For more information or to schedule a service, call us at 610-372-4383.