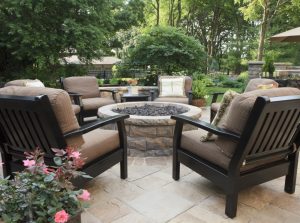 Between BBQs, family game nights, and just relaxing in the sun, your patio sees a lot of action during the summer. And the prettier the area is, the more your family and friends will want to spend time out there, so follow these tips to beautify your patio!
How to Beautify Your Patio:
Improve Your Furniture
Everyone needs a comfy place to sit and lounge, but they may be deterred if your wicker chairs are breaking or your wooden seating is two different colors from fading. Take a look at your patio furniture every so often. If the pieces could use a facelift, try giving them a fresh coat of paint. If certain pieces are really past the point of no return, replace them.
Add Plants and Flowers
Nothing says summer like bright colors! Spruce up your patio with some pretty flowers and plants from a nursery, or plant your own from seed packets. Hang the plants or place them on tables as simple, yet beautiful centerpieces to add some pop to your patio.
Create Shade
While soaking up the sun is nice for a few hours, after a certain point, it becomes too hot to bear. Adding a retractable awning to your patio not only allows relief from the glaring sun, but also gives your patio an inviting feel, and there's definitely beauty in that.
To beautify your patio, start by adding a SunShade Retractable Awning from Keystone Gutter Helmet. Our exceptional awnings are made from 100% marine-grade acrylic fabric, warranted for 10 years, and come in over 100 fabrics and styles. For more information or to get a free quote, call us at 610-372-4383.