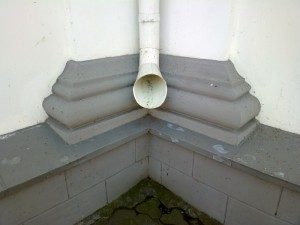 Picture this: you've spent a great deal of money to prepare your home for the summer, only to realize there's an ugly downspout hanging on the side of your home. Clearly this isn't the best addition in terms of taste, but it doesn't have to be all bad! While you'll need these particular components to direct rainwater, there are a ton of ways to make them look interesting!
Painting Is easy! Think about the term 'blending in'. This modification is perhaps the easiest change you can make to your downspout. If you've got some leftover paint from your home, try coating your downspout in it. It'll be less noticeable and can even look a little bit better!
Add flair to the bottom. The water has to go somewhere, right? Why not have it flow out of a tasteful accent piece? As an attachment to your otherwise boring downspout, you'll be able to provide an otherwise, tasteful and quirky piece to your outdoor living area. It'll also serve a purpose as it will redirect the water into another direction.
Add Vines! If your outdoor area is full of plants and vegetation, maybe you can transform some of your home into mimicking the look as well! A climbing vine is the perfect way to do so. Not only will this bring a little more life into your home's appearance, but it can hide that ugly downspout!
Of course, to prevent build up in your downspout, you'll need to start up top. By installing a Gutter Helmet, you'll never have to worry about anything getting in the way of free-flowing rainwater. When you're ready to look into this, Keystone is here for you!
Keystone Gutter Helmet guarantees your gutters will be free from debris, insects, and other things that can lead to clogs and leaking water. If you're thinking about having a Gutter Helmet installed, call Keystone Gutter Helmet and request a quote. We're proud to serve Wyomissing, and the surrounding areas. For tips, tricks, and to stay up to date on what we're doing, 'like' us on Facebook!