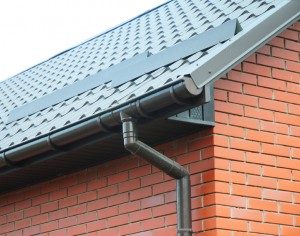 Picking Gutters out isn't too hard — essentially, they do what they're supposed to do. But when it comes to matching them to your house, there are a ton of things you must put into consideration when it comes to your home. One thing people don't typically look at is the color of their gutters, and while it might seem like an insignificant addition to your home, it actually is a big deal!
Red Gutters
Many people aren't aware of the differences that the color red brings. If your home is a bright white or light nude color, red can accent both the roof of your home, as well as the entire thing. This opens up opportunities to allow for different color options when it comes to window surrounds, doors, and so much more!
White Gutters
White is the most traditional, and rightfully so, given the ease of pairing with other colors. Because of this, it makes the outdoor curb appeal much nicer, as many owners tend to pair these options together with bright colors on the door, and even plants! Fluidity of color is something that many people love, especially when it comes to their home!
On top of these beauties, it's a good idea to add a Gutter Helmet to your home. Not only will it repel dirt nd debris away from it, but it can aid in the process to divert water away from your home quickly and effectively!
If you're thinking about having a Gutter Helmet installed, call Keystone Gutter Helmet and request a quote. We're proud to serve Wyomissing, and the surrounding areas. For tips, tricks, and to stay up to date on what we're doing, 'like' us on Facebook!