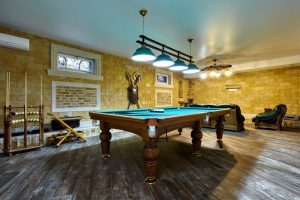 If you've ever been house hunting, it's probably safe to say you've painstakingly toured too many homes to mention before you finally chose the house you now call home. If you were lucky, your home came with a finished basement. But, most homes arent' man-cave or she-shack ready these days. However, that doesn't have to be a negative!
Whether you've purchased a new home or you've been living in your house for years, the options for a finished basement are unlimited, and you can make it your own. Here are some fun ways to add some finishing touches to your basement!
Organize it!
If your home may be a bit smaller than you like, you can take your basement and make it into a storage room extraordinaire!  Add some storage bins and label them. Hang up some shelves and a few freestanding utility cabinets for easy access to whatever you need at any time!
Let's
ha
ng
out!
An extra family room is never a bad idea! Whether you are entertaining adults or your children need a play area, a basement can provide many options for a gathering.If your basement has an exposed ceiling and brick wall, it can easily emulate a trendy NYC loft. Paint the brick a neutral color, add a sectional couch and an eclectic style rug for a SOHO aesthetic. Get inspiration from Pinterest on creating a playroom that will keep your kids entertained for hours! Paint cement walls with a kid-approved bright pop of color, throw down a few mats or a  fuzzy area rug for kids to crawl and play on.
Get Crafty!
If you're a craft enthusiast and have a love of all things glitter and glue, the basement is the perfect place to let loose and create until your little heart desires! Add the following and voilà! You've got yourself a craft area that would make Martha Stewart jealous!  
A work table/desk with lots of drawers

Storage containers, bins, and shelves (label them for easy access)

A large pegboard and pegboard hooks (hang scissors, rolls of ribbon, spools of thread, etc.)

Clear plastic sheeting or a rubber floor mat (for protecting craft messes from staining the floor)
Until you are ready to do a full-blown basement renovation, yet you still want to include it as living space, be sure to prep and seal it beforehand to keep out moisture and mildew.
Whether you need a little demolition to open up your floor plan or you want a complete basement overhaul, Keystone Gutter Helmet can make your vision come to life! Upgrading to a finished basement can add a lot of value to your home.  Get your quote today!