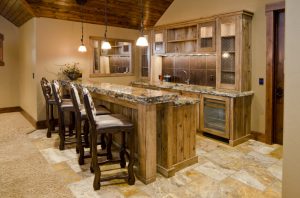 Too often, your basement is seen as a dark, underground space that really has no use besides being a laundry room or storage spot for all the items that you don't want in your home. With a little imagination, it can be transformed into your favorite spot in your house. A basement renovation can do more than just add some walls and lighting to your home's lower half. Think past the typical idea of a basement, and consider turning yours into one of these cool spaces.
A Movie Theater
If you consider yourself a film aficionado or just want to stream movies from the comfort of your home, turn your basement into a movie theater. Install a projector and matching screen, get some comfy recliners, and hook your basement up with an awesome surround-sound system to create the perfect viewing room.
An At-Home Bar
All you really need for this setup is a bar counter, benches to sit at, and your choice of booze. You can invest in a wine cooler to have your drinks already chilled or set up your own tap if you feel like getting fancy. If you have a spare mini fridge, you can even make your own kegerator. Decorate with your favorite art pieces or sports memorabilia, and have all your friends over for a Saturday night in.
A Gym
We're not talking about having a few dumbbells and a yoga mat around. If you're an avid gym-goer, why not set up your own at-home workout station? Get the walls lined with some mirrors, pad the floor, and invest in some high-quality exercise machines. You'll probably save more money over the years by working out at home rather than paying for a gym membership.
If you want to take your basement from drab to fab, call Keystone Gutter Helmet. Our technicians have worked in a variety of construction areas, so they have the knowledge to help you realize the full potential of what your basement could be. For more information or for a free quote, call 610-372-4383.