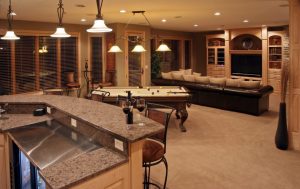 When you're looking to add some value to your home, you probably think of installing a pool or redoing the bathrooms. But have you ever thought about doing something with your basement to up your house's value? If not, you should, because a finished basement can seriously add value to your home.
The Different Value Levels of a Finished Basement
A few factors, including the degree to which your basement is finished, will affect how much value it adds to your home.
Full Walk-Out Basements
This is the most valuable basement. These basements offer full-sized windows, plenty of natural light, and usually don't feel like a typical basement. They're often at ground level so you can exit them through regular doors to a patio or backyard.
Garden Level Basements
While this level usually still allows you to have full-size windows, it typically doesn't allow for a full-sized door, simply due to the way your land is set up. In most cases, the basement is half-way underground.
Non-Walk-Out Basements
This is the least valuable type of basement. In these models, you don't have access to natural light, so you must rely on artificial lighting. Even though non-walk-out basements do not offer as high of value as other models, you can still add value to your home by finishing the space rather than simply having plain concrete walls.
No matter what type of basement you are working with, you can add value to your home by having the space finished with upgraded plumbing and electrical work, improved lighting, and the proper decor.
If you want to take your basement from drab to fab, call Keystone Gutter Helmet. Our technicians have worked in a variety of construction areas, so they have the knowledge to help you realize the full potential of what your basement could be. For more information or to get a free estimate, call us at 610-372-4383.