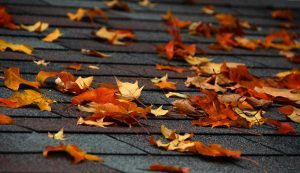 The air is getting cooler, the leaves are turning color and settling on the ground. Although Fall is very picturesque and beautiful, it may not be so pretty when you've got a pile of leaves and debris settling on your roof trapping moisture which can cause mold and mildew to form.
The onset of fall is the perfect time to get your roof ready to perform what it's supposed to do – protect your home. Here's are some things you should do to get the job done safely and properly.
Materials and Tools
Before you embark on your roof cleaning project, it is best to consider hiring a professional roof cleaner. Not only is this the safest method, a qualified and trained professional will have the tools and materials to ensure your roof gets cleaned properly without incurring damage. However, you must do it yourself, here's what you will need:
Trowel or large scoop – Use a trowel or large scoop to clean out your gutters. Gutter cleaning should be part of your roof maintenance routine, so if they are piled with leaves and debris, this should be the first step.
Sturdy ladder – ensure you have a ladder that is stable and in proper working order. It's best to enlist a friend to help and hold the ladder steady as you climb.
What You Shouldn't Do
Never pressure wash your roof. Pressure washers serve up very powerful pressure that can remove the granules that protect your roof from sun damage. It can also speed up wear and tear, thus reducing your roof's life expectancy. Instead, use a roof cleaning and stain prevention system such as roof shield. Roof Shield provides the following benefits:
Environmentally safe
Safe for your roof
Washes away lichen. Lichen is a slow-growing green plant that can eat through the mat of shingles.
Cost-effective
Prevents the growth of properties that can cause deterioration
EPA approved
Roof Shield should be administered by a roofing professional. Keystone Gutter Helmet is an authorized professional applicator. For all your roof maintenance and installation needs, contact us today!