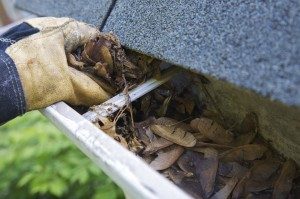 We've all been there — you notice your gutter is dripping water, but it hasn't rained in 2 days. You grab the ladder, and hike your way up to see that there's a buildup of debris and dirt inside your gutter. Heck, you might even find a critter settling in to what the thinks is his home. This is not good, and has to be addressed immediately. If this happens to you, know that there are a few things you can and should do to protect your home.
Clean Thoroughly.
This might seem obvious, but many people take a few scoops and think ' the next rain will wash the rest away' This is wrong, and should cease. Grab a brush, and get everything out from your gutters. You can't scoop pollen stuck to the inside, and this is the beginning of how things stick. Next thing you know, you'll be up there freeing clogs each time it rains — who wants to do that. Do it correctly the first time so you don't have to wait.
Install a Gutter Helmet
Think about the lifespan of your home — would you enjoy pouring money into it for frequent fixes? Probably not, so there's a simple solution. Grab a Gutter Helmet, and be worry free — forever. This piece of equipment is specifically designed to repel items from your roof, while allowing the water to flow into the helmet, down your downspout, and away from your home. It works simply, and very effectively. Invest in your home, doesn't it deserve it?
If you're thinking about having a Gutter Helmet installed, call Keystone Gutter Helmet and request a quote. We're proud to serve Wyomissing, and the surrounding areas. For tips, tricks, and to stay up to date on what we're doing, 'like' us on Facebook!