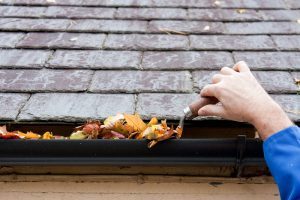 Cleaning gutters is probably one of the most loathed outdoor chores. It can be time-consuming especially if there is a lot of debris build-up. Leaving gutters caked with debris can cause gutters to sag as well as create foundation problems and basement floods.
While cleaning gutters are no picnic, someone has to do it! So, get over that procrastination hump and get started on gutter duty. Here are some ways to make the chore a little less painful:
Arm yourself with the right tools!
One of the most daunting things that happen when you get ready to clean your gutters is probably finding the tools and other things you need. If they are buried in your garage or shed, take a deep breath, relax and gather the following items:
Sturdy ladder
Work Gloves
Bucket
Gutter Scoop or Garden Shovel
Garden Hose
Once you've got your arsenal of tools in place, now you can get started!
Easy as One, Two Three!
Follow these three steps for a thorough gutter clean in a snap:
Remove gutter covers and start cleaning on the side closest to the gutter downspout.
Remove as much debris as possible (leaves, twigs, acorns, etc.) with a gutter scoop or shovel and put in a bucket.
Starting at the opposite end of the downspout, take a garden hose and flush out any remaining debris. If water isn't draining or the volume of water flow from the downspout is low , then the downspout may be clogged and needs to be cleared.
While the above steps make gutter cleaning bearable, not having to clean your gutters at all is the ultimate dream. Well, dreams can come true! Save yourself from the twice-a-year gutter cleaning detail. Call Keystone Gutter Helmet at 610-372-4383 for more information or a free quote on how you can get a custom-fit gutter protection system and never have to clean out your gutters again!