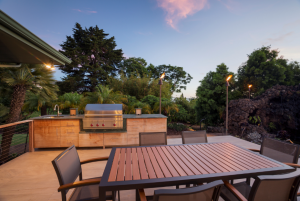 Spring is here, and you know what that means — backyard parties! It's that time of the year to invite all your friends and family over for Saturday pool parties, Sunday BBQs, and weekday playdates for the kids. With all the hosting you'll be doing, you'll want to make sure your backyard is ready to entertain, so decorate your backyard deck with these simple tricks.
Add Some Flora
Potted plants can add both beauty and dimension to your backyard deck. Place tall plants near flatter areas of your deck and smaller ones on tables. You can even plant a small fruit or veggie garden if you fancy yourself a gardener.
Put Some Pops of Color
If your deck is more on the monochromatic side, add a bit of color to it by laying out some bright throw pillows and seating cushions. Throw in a few fun-colored vases and table settings, and you're good to go!
Ramp Up the Railing
If you need to install a railing to keep a few little ones safe, think outside the box of simple wood bars, and integrate materials that match your home's aesthetic. For example, try out glass panels for functionality with a contemporary style.
Roll Out a Rug
All-weather rugs are great for adding some traction to your backyard deck while still making it look stylish. Plus, they can prevent outdoor dirt from getting back into your home and save you cleaning time.
Light It Up
Adding lighting to your deck can enhance its use since you won't have to head inside once it gets dark. If you have stairs that lead to and from your deck, lighting can make that trip safer and easier.
Shade Yourself from the Sun
Nothing's worse than being forced to cut your outdoor lunch short because the sun is too strong. Getting a retractable awning can help keep you and your guests cool and outside longer.
Keystone Gutter Helmet offers SunShade Retractable Awnings that are custom-made to provide long-lasting beauty and protection to your home and yard for years to come. With over 100 fabric colors and styles, there's sure to be a perfect fit for your home. For more information or a free quote, call 610-372-4383 today!