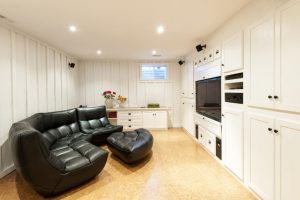 When it comes to renovations, some homeowners get nervous about expenses — with good reason. However, there are definitely places you can cut costs and save yourself some money. When it comes to basement remodels, here's where to splurge and where to save.
Splurge On:
An In-Home Bar: If you're always having guests over, an in-home bar is a great feature to have in your basement. Your friends and family will love being able to save money by staying in for drinks at your basement bar — unless you charge them!
Adding Ceiling Insulation: This will block out the noise from upstairs so you don't hear footsteps clomping every time someone is walking around.
Installing Good Lighting: Natural lighting usually isn't abundant in basements, so installing artificial lighting in the ceiling, walls, and tables can help bring a nice ambiance to your basement.
Save On:
An In-Home Bar: We know we just said to splurge on it, but that's only if you're big on entertaining. If you're not, you may be wasting money on something you won't really use.
A Guest Bedroom: Unless you're really in need of another bedroom, don't create one in your basement. You'll end up spending a ton of money just creating the legally-required exits and closets alone.
Creating New Rooms: If you have open space, leave it as is. All the costs of sheetrock, studs, and door add up quicker than you may think.
If you want to take your basement from drab to fab, call Keystone Gutter Helmet. Our technicians have worked in a variety of construction areas, so they have the knowledge to help you realize the full potential of what your basement could be.