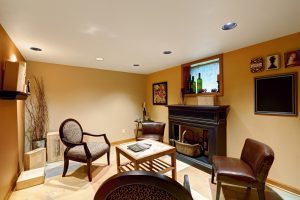 As a homeowner, having a basement can be a blessing or a curse. You may use it to store your junk and not as a space to be used for family fun and entertainment. You may be scared to death to redesign your basement because it feels damp or you are afraid it will flood in a rainstorm.
HOW GUTTER HELMET PROTECTS YOUR BASEMENT
To ease your mind before you remodel, Keystone Gutter Helmet can free you from worrying. You may not think to install gutter protection is a way to help when designing your basement, but it can prevent the following occurrences:
Cracked Foundations
Landscape Erosion
Mold and Mildew
Insect Invasion
Clogged Gutters
Drainage Problems
Prevention of these problems is key; then the next step can be to create and design a basement you will love.
FUN BASEMENT IDEAS
Basements don't have to be dark, dingy and scary! The following are ways to make yours the coolest one around.
Design a Wine Cellar
Build a Fantastic Kid Play Area
Set up a Home Gym
Create a Media Room for Family Entertainment
Create Space for a Pool Table and Ping-Pong Table
DESIGNING YOUR FUN BASEMENT
Some awesome designing ideas for your basement are as follows:
Build cubicles for storing toys, crafts, and games and place small tables and chairs on durable flooring.
Create comfortable movie theatre seating for watching a large TV with surround sound.
Create a pool table and ping pong table area.
Lay indoor/outdoor carpeting for weight machines, a treadmill, and other workout machines.
For more information, please call Keystone Gutter Helmet in Reading, Pennsylvania, and we will help make your dream basement a reality for you and your family!