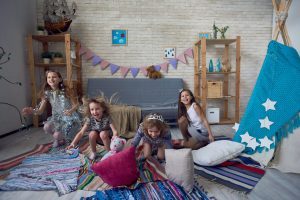 Basements are often untapped living spaces that have oodles of possibilities! Now that the kids are heading back to school, why not start planning out a basement space remodel that's not only kid-friendly, but where mom and dad can hang and enjoy too!  
Here are some ways you can turn your basement into an organized and functional space with style!
Homework Central!
Your kids won't whine about doing homework after they get to spend time in a space that's made just for them! Pick a corner nook area in your basement and add the following fixtures that suit your style:
Desk

Bookshelf

Storage containers and bins

Corkboard

Chalkboard



Once you have all the furniture and accessories placed, simply add any decorative elements to the walls and fill up storage bins with school supplies.
Playtime!
Choose an area where there's enough room for the kids to move around and release all that energy! Consider these items for the perfect play space:

Fun, fuzzy rug or foam mat

Baskets, storage containers or bins  (for easy toy organization and cleanup!)

Tables and chairs (for board games and puzzles)

Wall shelves

TV/Game console



When creating an open space play area, it may also be fun for kids to have a chalk painted wall so they can write or draw on the walls without getting in trouble!
Feelin' Crafty!
Arts and crafts are always a fun activity for kids and adults alike! Choose an area that's not the focal point of the basement room as it will get messy from time to time! Add these components for a crafting space that even Martha Stewart would be jealous of!
Pegboards and pegboard hooks

Storage containers and bins

Rubber floor mat or clear plastic sheeting

Sturdy work table and chairs
A craft area needs a lot of storage space so hang spools of thread or ribbon on pegboard hooks as well as crafting tools such as scissors and tape rolls. Having plastic sheeting or a mat will help protect the floors from messy paint and marker stains.
Whether you're looking to revamp your basement floorplan or need a complete basement makeover, Keystone Gutter Helmet has the experience to execute your vision! Upgrading to a finished basement not only adds comfort and enjoyment to owning your home, it also increases value. Contact us for a quote today!