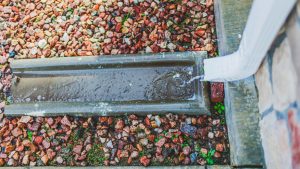 With spring here, it's time to take a look at those gutters! Making sure that you're on top of your maintenance is the key to a healthy home this year! With April showers not too far behind, checking your home for any necessary repairs is something worth doing. Here are a few tips for home maintenance in spring.
Check your roof shingles.
If any have been lost or damaged, you will want to think about replacing them.
Give your wood trim some good care too.
This specifically means around windows and door frames. Exposed or damaged wood can suffer a terrible fate when the spring showers finally hit.
Check your gutters.
Your downspouts should be facing away from the foundation of your home and be clear of debris.
Grab some compacted soil.
Excessive showers can result in flooding in your yard around your home, which can damage your foundation. Not only that, but flooding presents a breeding ground for bugs. Adding compacted soil around your foundation can help fight flooding.
Outside faucets need a look as well.
It's a general rule to turn them on and see if your finger can effectively stop the flow of water. If so, the pipe is most likely damaged and needs to be looked at.
Power equipment needs to be looked at too.
The last thing you'll want to do is wait another week to cut the grass because your lawn mower isn't working. Give it a quick inspection and top off all fluids if needed. It will pay off in the long run, we promise!
Save yourself a headache! Effectively performing these steps for maintenance will ensure that your home is ready for the summer months ahead.
Offering a lifetime warranty, Keystone Gutter Helmet guarantees your gutters will be free of debris, insects, and other things that can lead to clogs and leaking water. If you're thinking about having a Gutter Helmet installed, call Keystone Gutter Helmet and request a quote. We're proud to serve Wyomissing and the surrounding areas. For tips, tricks, and to stay up to date on what we're doing, 'like' us on Facebook!