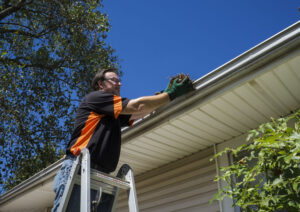 Gutter cleaning has always been an annoying task to take care of in the Spring and Fall seasons. Sometimes, our gutters can have freezing issues in the winter season causing problems to occur in the spring. Cleaning your gutters is essential to the function and health of your gutters. Before the winter season is usually when homeowners get out to clean their gutters.
We have some tips on how to make your gutter cleaning tasks much easier:
Always Have a Helper
Doing gutter cleaning by yourself is a nightmare. You never want to tackle the task of cleaning gutters alone because it could be dangerous. With another person helping out, you'll be able to stay safe, avoid unnecessary falls, and get the job done quickly.
Use a Sturdy Ladder
Having a reliable and sturdy ladder is one of the most important aspects to cleaning your gutters. The ladder is always necessary to cleaning gutters because it requires you to climb up on the roof and use your hands to get the debris out of the gutters.
Use Proper Gutter Cleaning Equipment
Wearing good garden gloves is necessary due to the grime and possibly muddy debris inside your gutters. Along with gloves, it's recommended to grab a sandbox hand shovel. This will be very helpful in scooping out all the mud, wet leaves, and other debris clogged in the gutters.
Invest in High-Quality Gutter Helmets from Keystone Gutter Helmet
One of the best ways to reduce the amount of cleaning done to your gutters each year is investing in high-quality gutter helmets from Keystone Gutter Helmet. Gutter guards make life easier when it comes to gutter cleaning. They set over the top of your gutter system to keep leaves, debris, and other materials out of your gutters. They also deter infestation and nesting of rodents inside the gutters.
When winter rolls around, you won't have to worry about freezing gutters either! Contact Keystone Gutter Helmet at 610-372-4383 today or visit us online for more information!