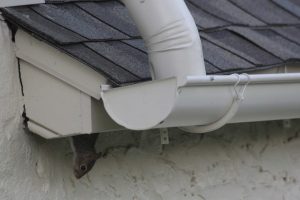 Though it might not be raining all winter long, it doesn't mean water won't end up finding its way into your gutter system. Even without torrential downpours, water collection can be a daunting task for old, small gutters, so it's important to understand what you can do in order to prevent it from happening. One option to think about is increasing the size of the gutters you're currently using on your home — by doing this, less damage is far more likely to occur.
The most common sizes for gutters are the 5-inch K-style gutter, and the 6 inch half round gutter. These are typically built to withstand the average rainfall around the country. Larger houses with steep roofing or heavy rainfall may need to be equipped with wider gutters and extra downspouts to handle all of the precipitation.
There are a ton of different factors that go into deciding how large to go with, and it varies based on a few factors. Your roof pitch factor is one, and is based heavily on the steepness of the roofing itself. Using a few different tools, you can measure the pitch of the roof, which will give you an idea of how much bigger your gutter system should be.
For other applications, gutters with extra capacity can also withstand higher forces of rain and precipitation. 7 or 8 inch gutters cost more, but they can handle more. Adding downspouts is always a good idea as well, which can increase the amount of water flowing out at any given time. This is one of the easier ways to getting around an all new system.
Additionally, if you've been dealing with clogs and damaged gutters due to debris, your answer may be a Gutter Helmet instead. With it's ability to melt ice and prevent anything from piling in, there's no reason you can't add this to your arsenal to protect your home this winter.